Discover C

larity, Peace, Joy and Serenity - Yoga Classes Canberra
"Yoga is not an ancient myth buried in oblivion. It is the most valuable inheritance of the present. It is the essential need of today and the culture of tomorrow".
Yoga Classes and Events on Offer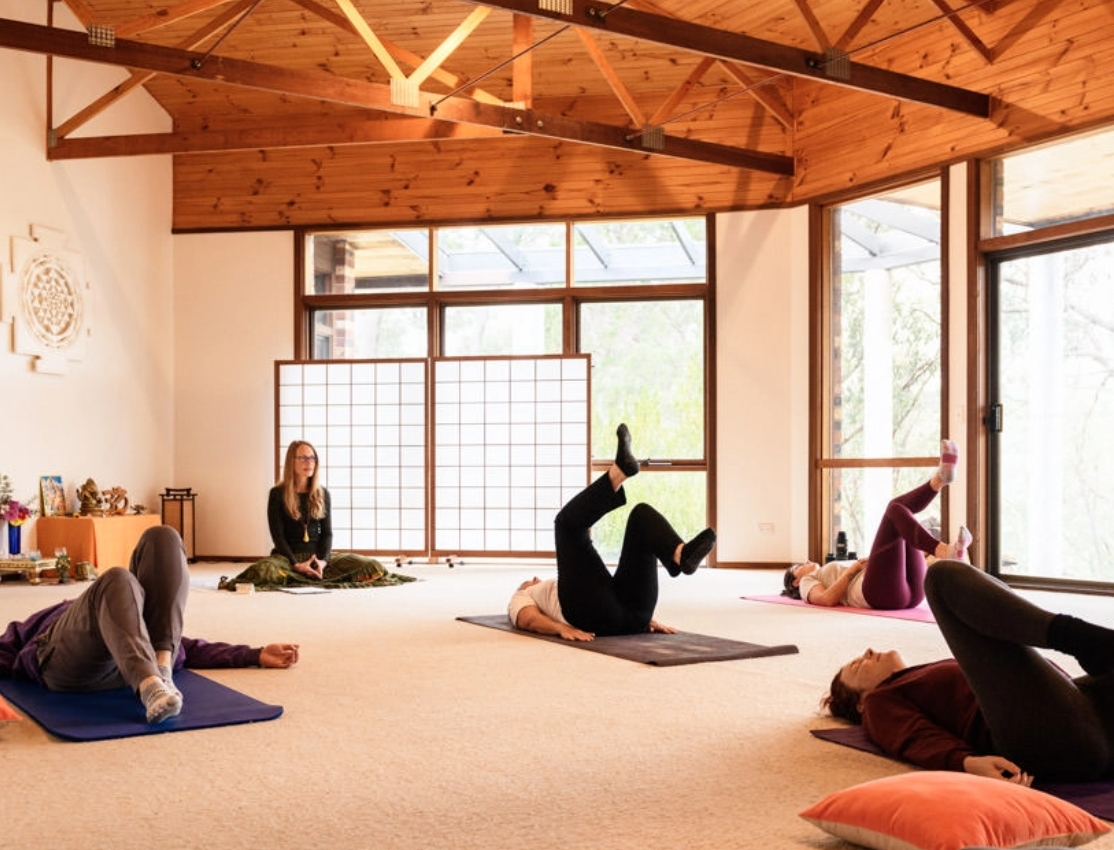 Yoga Classes Canberra & Online
Yoga and meditation classes are suitable for all levels and capabilities. Beginner yoga classes focus on foundational practices and progressive and intermediate classes cultivate deeper levels of awareness.
Private Yoga Classes
Individual programs are for students wanting a tailored yoga program to address specific needs, goals or health conditions. Can be held in person at our studio or online private coaching via Zoom.
Yoga Retreats and Workshops
Workshops and retreats offer students the opportunity to deepen their yoga and meditation practice, and to take time out and reset in natural surrounds. Each workshop has a different theme and focus.
Community Events
Regular havans and kirtan practices heal and purify the body and mind. Meet like-minded people in a friendly environment at our beautiful Queanbeyan yoga retreat centre.
Transform your life through the power of yoga
Yoga on the Ridge was established in 2018 as a beacon of light for the Bihar School of Yoga and the teachings of Swami Satyananda Saraswati. Classes combine classical teachings with experiential understanding of the practices, and integrate relevant information from the physical and mental health sciences.
Our Queanbeyan Yoga Studio
The Yoga on the Ridge Studio is located in a natural bush setting in Queanbeyan, only 10 minutes drive from Canberra Airport. The peaceful surroundings provide students with an opportunity to enjoy some precious 'time out' in nature to recharge, reconnect and reset.
Yoga postures influence the chakras for optimal functioning of the muscles, joints, organs, glands and bodily systems. Yoga postures develop strength, flexibility and endurance, and also have a calming effect on the mind.
By tuning into the breath, we connect with our life-force. Different techniques have an energising, balancing or calming effect on the nervous system, and can remove energetic blockages for greater health and well-being.
Quietening the conscious mind expands our awareness and releases tensions stored in the physical body and unconscious mind. Meditation allows access to the calm aspect of ourselves – the part that never changes – which gradually develops deep and enduring inner peace.
Yoga nidra has a profound effect on the nervous and circulatory systems, releasing tension from the physical, mental, emotional and spiritual bodies. This provides an unparalleled opportunity for the body to rest, recover and rejuvenate.
Chanting can relieve symptoms of depression and chronic stress, cultivate focused attention and increase feelings of relaxation. Chanting combines sound, breath and rhythm, which balances the nervous and endocrine systems and has a calming effect on the mind and body.
Take the proven path to a happier body, mind and spirit through learning the science of yoga
"Life is essentially a divine worship. Individuals are mere instruments in the fulfilment of divine law." – Sw. Shivananda
I am passionate about yoga and in awe at the way the teachings continue to positively influence all aspects of my life.
An earnest seeker of the Truth, I first approached yoga from a scientific perspective in 2002 and verified its effects on my own body and mind through self-observation and experimentation.
The Practice Of Yoga Can Transform Your Life
The science of yoga is the science of life energy. On a physical level, yoga balances the nervous and endocrine systems, which influence all other systems and organs in the body. Embracing a regular yoga and meditation practice will bring more clarity, peace, joy and serenity to your life.
The Importance of Inner Harmony
The ability to function well on a daily basis depends on our inner state of being. If this is not in harmony, our interaction with the external environment cannot be harmonious. Through the practice of yoga, we gradually break the cycle of reaction as we open the doorway to conscious choice.
Our Inner World Dictates Our Outer Experience
You will notice gradual improvements in the quality of the relationship with yourself and with others as your true nature is revealed and your intuition begins to blossom. The techniques taught in classes and deepened during workshops work together to purify the body, mind and energy systems – an essential step on the path to experiencing the true meaning of yoga, which is 'oneness' or 'unity'.
I can thoroughly recommend Katherine's Thursday morning classes. Katherine is a very approachable, skilled and gentle teacher. Somehow she makes the class appropriate for complete beginners and those who have done ypga many times before. Initially I was a little hesitant about the 25 minute drive from my home in Tuggeranong, but very quickly I found that the drive with a friend and the easily accessible beautiful bush setting make for a wonderful mini retreat every week. Having just completed one term, I feel this class will be part of my life for a long time to come.
I have been coming to Katherine's yoga classes for over a year now. Katherine is an experienced yoga teacher who brings positive energy to her lessons. I enjoy the relaxed pace of the class, the asanas and the breathing exercises, all of which have helped me to manage a chronic back condition. My breath awareness has also improved, which is excellent for managing tension and stress. I would highly recommend Katherine's classes to new yoga students and anyone seeking a positive yoga experience in a beautiful bush setting.
I have been attending Katherine's yoga classes for several months now and have been really impressed by her scientific approach to the practice. She breaks down the poses and techniques in a way that is easy to understand and follow, which has helped me to improve my form and get the most out of each class. I highly recommend Katherine's studio to anyone looking to deepen their yoga practice.
I have really enjoyed Katherine's classes for the past few years, especially her thorough explanations of postures and breathing practices. Her classes are held in a delightful, peaceful setting complementing the tone and structure of each class. I highly recommend these classes.
I would highly recommend attending the yoga and meditation classes offered by Yoga On The Ridge. Not having done either for some time, Katherine through her empathetic teaching style, made me feel comfortable and supported. Over the weeks, I became more flexible, and the meditation techniques she shared has been useful in handling the day-to-day stresses of life. I feel balanced, stronger and healthier.
Learn a Wholistic & Scientific System for Health and Wellbeing with our Canberra Yoga Classes